DCTA Partners with Lyft to Offer $2 Discount in Highland Village and North Lewisville

Jan 12, 2018

DCTA has a new partnership with Lyft – the fastest growing on-demand transportation service in the United States – in an effort to provide more transit options for those traveling within Highland Village and north Lewisville. As part of the program, those traveling within the specified Highland Village Lyft Zone will receive a $2 discount for Lyft rides, providing valuable mobility services around the community as well as first-mile-last-mile connections to transit.

Effective Monday, January 15, this new partnership will replace DCTA's existing partnership with Uber and riders will now need to download the Lyft mobile app to access the discount. The new Lyft discount program specifics will remain similar to the agency's existing discount program:
Service Hours – Monday through Friday from 5:30 a.m. to 7 p.m.
Lyft Zone – Highland Village and Northern Lewisville (same as the previous Uber Zone)
Rider Discount – Same $2 discount will now be applied to Lyft rides (discount applied to Lyft trips only – no additional discounts offered on any DCTA bus or train services)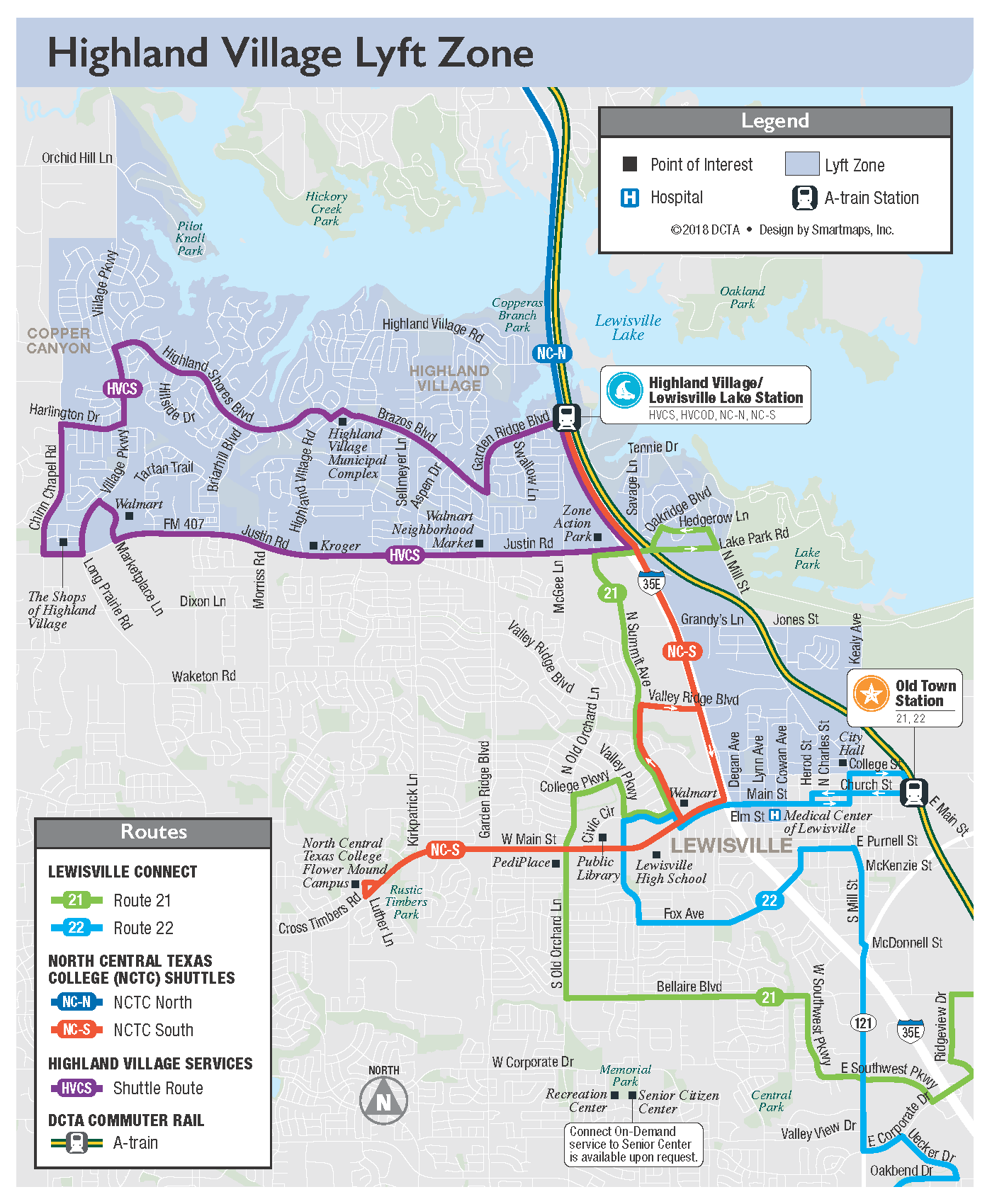 Below are specific instructions for riders to access the DCTA-sponsored $2 discount through the Lyft program for trips that start and/or end in the designated Highland Village Lyft Zone during service hours:
In the Lyft app, select "Promos."
Enter the promo code RIDEDCTA2 to enroll in the discount program (this is the only time a user has to enter the code to enroll in the program).
Users can select "view coverage area" in the promotional section to see the designated Highland Village Lyft Zone.
The DCTA-sponsored $2 discount will be automatically applied to an eligible trip before it's requested. In addition, the discount will be automatically applied every time a user takes an eligible trip within the program parameters (service hours and Highland Village Lyft Zone).
DCTA welcomes rider feedback via GORequest to optimize the program over time and will continue to provide alternative transit solutions for riders.
---
Back